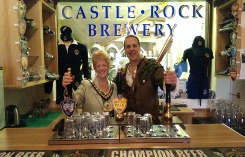 We do lots of great things as Nottingham's official Robin Hood and Maid Marian; working at Nottingham Castle for events and tours and for the City Council whenever they have an event such as the annual Saints Day parades, Robin Hood Pageant, major sporting events and much more - but if you'd like Robin to appear at an event for you here's just a sample of what we do - plus if you have special requirements we can also provide jesters, jugglers, fire-eaters, fighting knights, minstrels, musicians, magicians and lots more...
WHEN YOU NEED AN OUTLAW CALL ONE YOU CAN TRUST!
If you've ever wondered how Nottingham's most famous brewery makes its award-winning beers then come on one of our brewery tours, guided by Robin Hood himself - see the ingredients and production and then enjoy free samples in our Visitors Centre - you can even pull your own beer! Contact Castle Rock Brewery for tour details.
Castle Rock Brewery Tours
I started my Robin Hood-ing over twenty-one years ago working at medieval banquets, including over fifteen years at Center Parcs in Sherwood Forest - so if you're thinking of holding a banquet please contact me for details as we can provide a complete package (jesters, musicians, fire-eaters etc.) via my event management team.
Discover the hidden depths beneath Nottingham Castle on a special Robin Hood Storytelling Cave Tour. Robin himself will take you down into the Dungeon and caves telling you a thrilling story of rescue and adventure! Tours held regularly during school holidays and at other times by arrangement.
Nottingham Castle
Cave Tours
Tim and Sal have appeared in a wide variety of TV, radio and media articles, documentaries and packages. If you would like Robin Hood to appear in your film, show or magazine please get in touch. Tim is also a writer and columnist for publications including the Nottingham Post and The Beestonian magazine! Still from BBC TV
TV, film and media appearances
Special visits (including hospital visits, pictured) and Robin Hood-themed birthday parties are great fun for everyone, especially if everyone dresses up too! I've run Robin Hood parties at private homes, at Nottingham Castle (Contact them for details. and elsewhere. We can also provide other entertainment so contact us for details.
Leading Nottingham's annual St George's Day Parade, the St, Patrick's Day parade and appearances at carnivals, fetes, fairs and other events are all part of our year, if you'd like us to appear at an event please contact us directly.
Photo: Robert Balmer Photography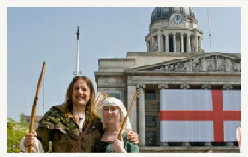 Think you know the Robin Hood stories? Not the way we tell them! Hear us tell you our fun family-friendly (and sometimes quite silly) versions of the legends with action, adventure and several quick costume changes, as seen in Nottingham City Centre all summer as well as at private events.
Robin Hood Storytelling Plays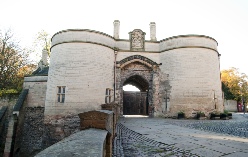 If you are holding a conference , event or trade show in Nottingham and want a truly impressive world-class venue for an evening function with your guests greeted by Robin Hood, fire-eaters, jesters and musicians then Nottingham Castle can cater for all of your requirements, big or small.
On of the real privileges of portraying Robin Hood is the opportunity to help people less fortunate than most; it's what the character is all about. If you have an event and think we could help promote it please contact me.
Photo of us starting the 2014 Barefoot Walk Chris Frost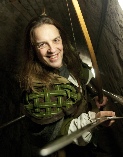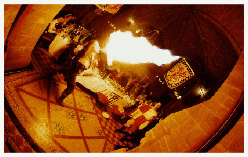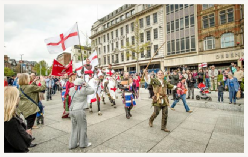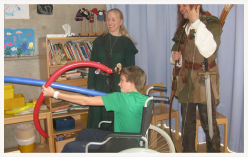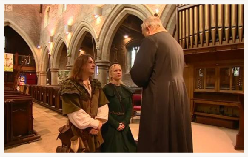 Events, fairs, parades and fetes
Special Occasions and parties
- ROBIN HOOD STORYTELLING PLAYS
- CORPORATE EVENTS
- CHARITY EVENTS
- NOTTINGHAM CASTLE CAVE TOURS
- CASTLE ROCK BREWERY TOURS
- MEDIEVAL BANQUETS
- PARADES, EVENTS, FAIRS, PARTIES
PLUS MUCH MORE!